FOR IMMEDIATE RELEASE
December 14, 2006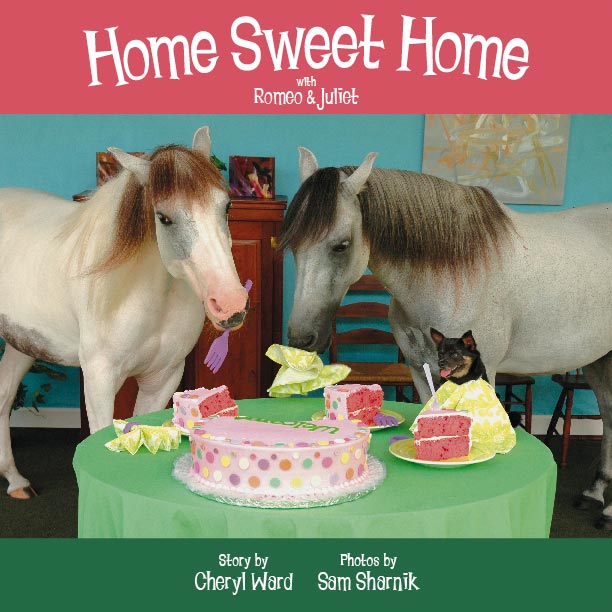 Home Sweet Home with Romeo & Juliet
Story by Cheryl Ward, Photos by Sam Sharnik
Imagine a pair of 900-pound horses photographed in a furnished, carpeted house unpacking their suitcases. Meet Romeo & Juliet, two real horses who talk, laugh, stick out their tongues, smile and eat cake with a fork. By following their hearts, they escape their mundane, barnyard lives and find friendship, fun and home sweet home.
Home Sweet Home with Romeo & Juliet is a motivational tale about two horses who create their own reality by setting goals and having fun along the way. When they encounter an obstacle, like not having cake for breakfast, serendipity takes over through their five-pound neighbor, Cheeka the Chihuahua.
Children giggle with delight as they see charming photographs of two real horses living in a house and eating cake with a tiny dog. Teachers appreciate the variety of discussion topics covered in the story, like moving to a new house, getting ready for bed and making new friends.
About the Authors
Cheryl Ward is a horse trainer, artist and writer who uses positive reinforcement to bring out the humorous, playful side of animals. Sam Sharnik is a photographer and editor who grew up with horses in Connecticut and has a keen eye for capturing the subtleties of equine expression. This is their first book together. They are married and live in Florida with their family.
About the Horses
Romeo paints on canvas with a brush in his mouth and has appeared in magazines, newspapers and on television. Juliet joined Romeo as his first student and has her own, unique painting style. Their paintings hang in homes worldwide. Romeo & Juliet are both Paso Fino horses, aged 12 and 6, respectively.
About the Photos
Romeo and Juliet have learned to make funny faces, manipulate objects with their mouths and pose for the camera. All of their photos are genuine.
Book details
44 pages, softcover, ages 4-8, 8.5 x 8.5 in.
$9.95 USD
ISBN-13: 978-0-9790282-0-5
ISBN-10: 0-9790282-0-5
Publisher: Painting Horse Studios
Publish date: December 2006
Availability: Boone Bridge Books (USA), BarnesAndNoble (USA), Amazon (USA), Amazon (UK), SeekBooks (Australia), Scribbly Gum Books (Australia), Loot (S. Africa); by special order at Barnes & Noble bookstores; wholesale through Ingram and Baker & Taylor.