Painting Horses Star in Children's Book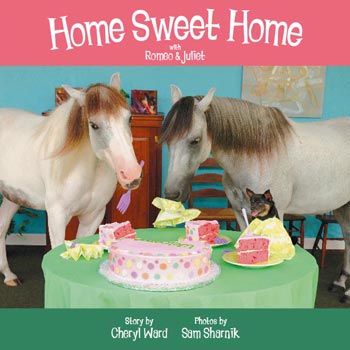 View sample pages | Read press release
Free Download - Click for more info
Home Sweet Home with Romeo & Juliet
Story by Cheryl Ward, Photos by Sam Sharnik
Description: Imagine a pair of 900-pound horses photographed in a furnished,
carpeted house unpacking their suitcases. Meet Romeo & Juliet, two real horses who
talk, laugh, stick out their tongues, smile and eat cake with a fork. By following their
hearts, they escape their mundane, barnyard lives and find friendship, fun and
home sweet home.
Children giggle with delight as they see charming photographs of two real horses
living in a house and eating cake with a tiny dog. Teachers appreciate the variety
of discussion topics covered in the story, like moving to a new house, getting
ready for bed and making new friends.
44 pages, softcover, Ages 4-8, 8.5 x 8.5 in.
ISBN: 0-9790282-0-5; ISBN-13: 978-0-9790282-0-5
$9.95 USD
Order online
Scribbly Gum Books (Australia)