About
In the Beginning...
My father was a professional artist and my grandmother rode broncs in the Calgary Stampede. Perhaps there's a genetic reason why I handed a paintbrush to my horse! Actually, it started with an adorable yet troubled horse named Romeo.
When Romeo and I met many years ago, I described him as a handful, and he probably would have described me as a pushover. He was quite adept at pushing me over, or pulling me, or whatever he felt like doing. It was quite a surprise for me to find that all the skills that I had learned through years of horse ownership were completely ineffective with him. From his papers it looked like he had roughly 7 owners before me. So in his eight years he had plenty of time to learn useful skills, like how not to leave the barn or how to keep running when asked to stop.

We Found Positive Reinforcement Training

I needed to invent a way for us to work together in harmony instead of our usual contest of wills. As it turns out, I didn't have to invent anything, I found positive reinforcement training (the same type used to train marine mammals). Suddenly Romeo and I were speaking the same language. As soon as I became clear with what I wanted, he was more than happy to give. I began to feel such compassion for this poor, confused, 8-year-old who had no idea how to be around people. All of his behaviors that would have been labeled bad or manipulative were only symptoms of his lack of understanding. Like an insecure person with erratic behavior, he just needed someone to help him feel more secure by clearly reinforcing when he did the right thing, and not causing him upset when he did the wrong thing.
After about a year and a half of getting to know each other, a whole new creature emerged. This horse who wouldn't let me touch his ears was now burying his head in my arms. Once afraid to open his mouth for the bit, he now was picking up my helmet and handing it to me while I was on his back. He'd pick up anything and hand it to me, which was the impetus behind giving him a paint brush.

"Don't Be an Artist"



My father was a professional artist and he always told me NOT to follow in his footsteps. To him, an amazingly talented artist, making a living from that which pours forth from your soul wreaked havoc on him emotionally and financially. Understandably he didn't want that for me. Unable or unwilling to heed his advice, I began painting horse portraits anyway (see "Star" at left). I secretly dreamt of a career as an equine artist. Now that my horse paints, the equine is the artist. My dad never said anything about a horse following in his footsteps.

So it began with Romeo. One day armed with a sketch pad and a paint brush I entered his paddock. Naturally curious, he reached for the brush and I presented the pad. For a split second I wondered how in the world he would make the connection to touch the pad with the brush and not his muzzle. Before I had a chance to help him, he began immediately touching the brush to the pad. The next day we added paint, painting No. 1 emerged, and the rest is history.

Romeo & Juliet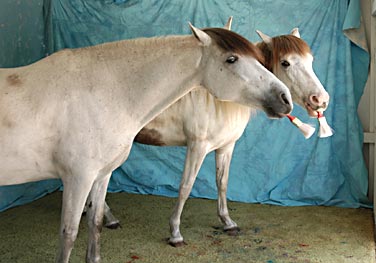 Romeo (front) shows Juliet how to hold the brush.
This was an arranged marriage. We had moved and had to separate Romeo from his previous pasture mate/girlfriend. We didn't want Romeo to be lonely, so we had to get him a companion. (Oh darn.)
It was love at first site, for the humans. As for Romeo, he was more concerned about demonstrating his herd status by kicking and biting her. It's been a great training opportunity to teach Romeo to make nice faces and maybe keep his teeth to himself. Now that he realizes Juliet is here to stay and good things happen when he doesn't bite her, he's warming up to the idea that she belongs to him (in typical stallion-esque fashion).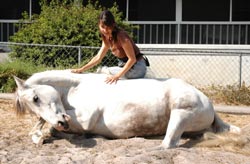 The Jewel

Juliet is a pinto Paso Fino mare. Her name should be spelled Jewel-iet because she is an absolute gem. She has a nimble Paso Fino body with the calmness and work ethic of a seasoned draft horse. If I hadn't traveled the rocky road with Romeo, I never would have appreciated Juliet's wonderful easy temperament.
Romeo appreciates her influence especially when it comes to trailer loading. She hops right in and stands quietly, giving Romeo the confidence to do the same. I love how the trailer does NOT vibrate any more. Poor Romeo used to stand and shake. With his lovely companion at his side he can conquer the world. Behind every good gelding must be a good mare.

Juliet Paints BIG!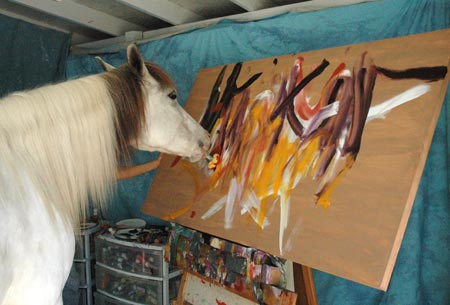 Juliet's style lends itself well to painting on large canvases.
Not only is Juliet a positive presence in Romeo's life, she's also a painter! Every time Romeo would paint, we would make sure Juliet could see him. After a few times of allowing her to watch the master, she appeared curious, so I gave her a brush to hold. Her youth and lack of emotional baggage allowed her to approach painting with amazing enthusiasm.
We were invited to bring Romeo to paint at a horse show held at a therapeutic riding school called Artist's Gardens. We asked if we could bring Juliet along. They had plenty of space so we were able to set up Romeo's painting corral within a larger corral. Every time Romeo would leave his easel and exit his corral Juliet would wait a few seconds and run and 'steal' Romeo's position at the easel. With a big enough pile of hay before him Romeo didn't seem to mind that Juliet was standing at HIS easel. This set up the perfect moment for Juliet's first painting. Now I'm the new assistant to a pair of painting Pasos!
Two Styles of Painting

Juliet's style is quite different from Romeo's. Romeo, who is naturally worried and prone to overreacting, paired with stallion-like displays of dominance, paints with finesse and soft graceful strokes. Juliet, who is calm and steady, opens her mouth as wide as if she was grasping a grapefruit and applies the brush to canvas with force and serious commitment, so much so, that I often have to brace the easel so she doesn't knock it over with her enthusiasm. Her strokes are bold and long and very expressive, such contrast to her soft quiet, almost soothing temperament.
Perhaps painting gives Romeo and Juliet an opportunity to explore and express different sides of their personalities. Who knows, there just might be some validity for equine art therapy.
A few years and two more horses later, I found out there is! Watch the video with all four horses by CBS News, Art Therapy for Horses.

Enter DaVinci: "Contents Under Pressure"
DaVinci became the focus of the CBS story. He was a horse suffering from Post Traumatic Stress Disorder. He learned to paint before we could comfortably touch his body. The skills involved in learning to paint offered him a sense of control in his environment and jump started his recovery. He was the horse that truly showed me the power of positive reinforcement and attraction based methods. He carried with him so much pressure from the trauma of his past that any pressure would cause him to erupt. The more he learned that I could give him more of what he wanted (the ability to choose) the less reactive he became. See more of our adventures in The Diary of DaVinci.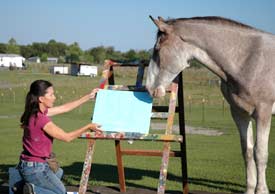 Sir Walter Raleigh
We had to come up with a big name for such a big guy. Raleigh is a bay roan Clydesdale that was given to us when he was 15 months old. He represents a horse that has only had good experiences. I'm training him exclusively with attraction based methods. On the rare occasion I have to use any kind of pressure I can barely stand the look on his "Why'd you do that for?" face. Because of his naturally calm and trusting demeanor I often do tandem training together with DaVinci. Watch Raleigh's video.

Riding
Romeo's early riding experiences must have left a bad taste in his mouth, especially when he caught sight of a bit. So instead of reminding him of the past I started riding him in Dr. Cook's bitless bridle. He's done so well without a bit, why add one? Since Romeo's done so well with his bitless bridle, Juliet had to have one too.
Owning Paso Finos often makes a saddle unnecessary. We're frequently seen riding bitless, bareback and always barefoot (the horses, not me).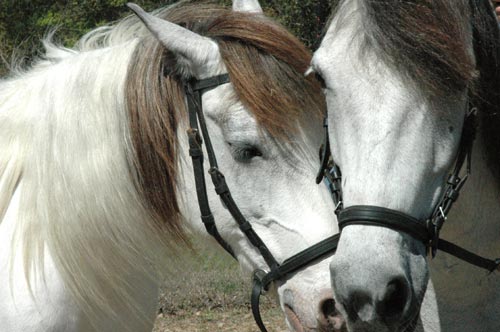 Romeo (right) and Juliet make quite the pair in their matching bitless bridles. Photo by Leah Leonard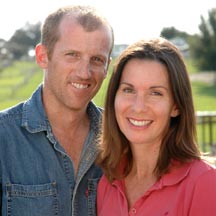 Cheryl Ward & Sam Sharnik
Cheryl and Sam work as a writing and photography team. Cheryl writes stories and trains animals. Sam takes photos and designs layouts. Cheryl and Sam are proudly owned by Romeo, Juliet, DaVinci and Raleigh. They are married and live in Florida with their family.
Enjoy!
Cheryl Ward & Sam Sharnik