Guests
---
Anne-Marie
Clearwater, Florida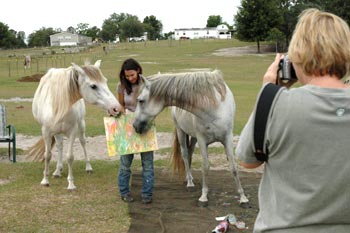 Romeo, Juliet, DaVinci and Raleigh all painted on the same canvas for Anne-Marie. Romeo and Juliet stayed with Cheryl to pose with their creation.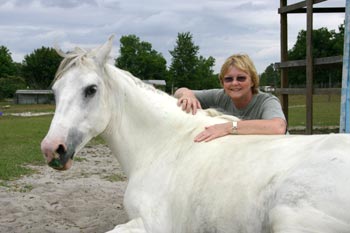 Anne Marie enjoys a moment while Juliet lays down.

---
Michelle, Robin & Susan
Homosassa and Floral City, Florida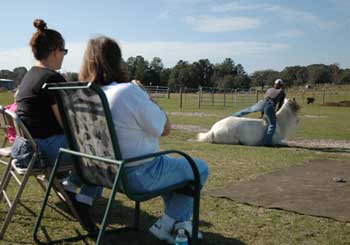 Cheryl demonstrates Juliet's skill at lying down on cue.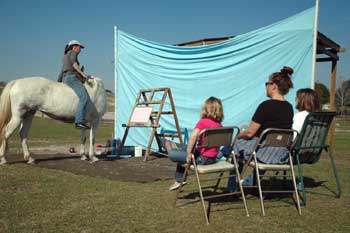 After allowing Cheryl on her back, Juliet walks to her easel.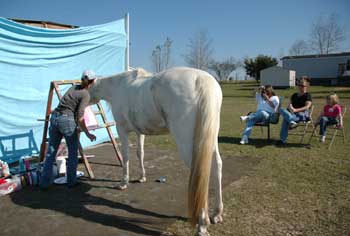 Cheryl then dismounts and Juliet paints for Susan, Michelle and Robin.

---
Barbara, Larry & Christi with Don & Nancy
Floral City, Florida and Beaufort, South Carolina
On a sunny spring day in Floral City, Romeo, Juliet and DaVinci painted, autographed and performed for visitors.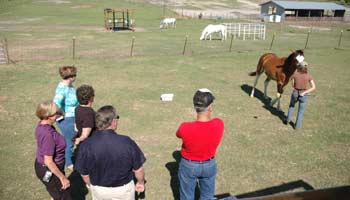 Cheryl and DaVinci demonstrate a sidepass.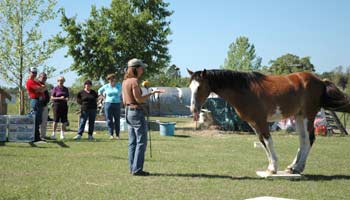 DaVinci balances with all four hooves on a 20 in. square.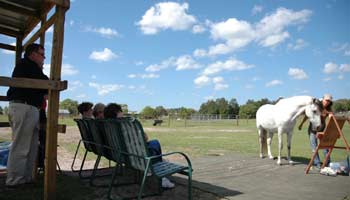 Romeo paints unhaltered in a pasture.

---
Tina & Thelma
Brooksville and Floral City, Florida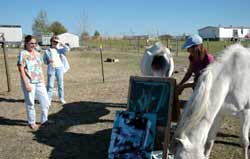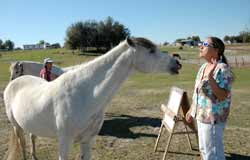 Artists Tina and Thelma watch Romeo & Juliet at the easel (left), while Romeo shows Tina the finer points of making funny faces (right). Romeo might think Tina's artwork (below left) is his portrait. Thelma's artwork (below right) is titled Nature in the Balance and is colored pencil on black paper.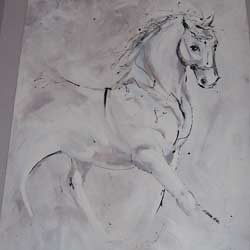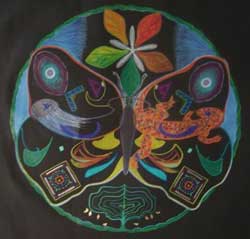 ---
Ted, Ted Jr, Cheryl & Mae
New Jersey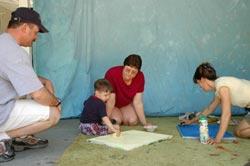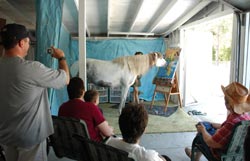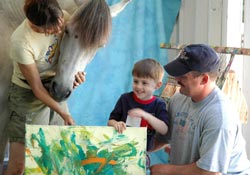 Ted Jr. prepares a yellow canvas for painting while his mom & dad (Ted and Cheryl) look on. Cheryl #2 (Romeo & Juliet's mom) prepares a blue one (above).
Juliet paints for guests in her indoor studio (above right).
Ted and Ted Jr. pose with Romeo and Cheryl #2. Romeo and Juliet contributed their brush strokes to both paintings.
---
Pat & Linda
Crossville, Tennessee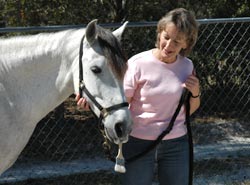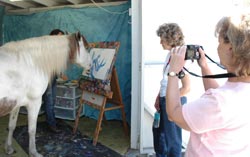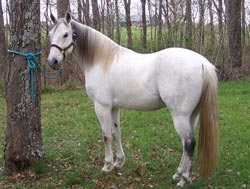 Romeo poses with Pat (above) while holding his brush. Sisters Pat and Linda (above right) also own Paso Finos.
Coincidentally, Pat has a handsome, gray Paso Fino also named Romeo (right). The two Romeos were born months apart and share similar bloodlines. Hopefully Pat's Romeo won't get jealous seeing his mom with another Romeo.
---
Penny & Patty
Bozeman, Montana and East coast, Florida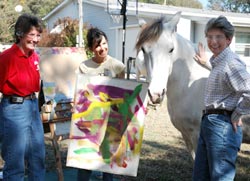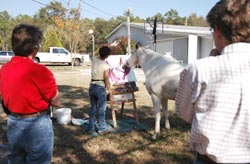 Patty, Cheryl, Juliet and Penny (left to right) admire Juliet's latest creation. Sisters Penny and Patty shared some great insights into the Montana countryside and introduced us to a new gaited saddle horse called the Montana Travler (one "e").
---
Marian
Cincinnati, Ohio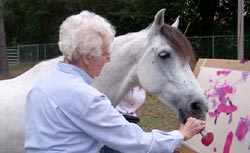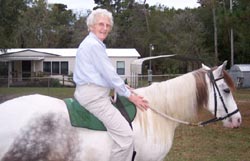 Marian read about Romeo in the Gaited Horse Magazine and decided to come see him paint while visiting her family in Florida. Not only did she get to see him paint, she helped him paint! And she got to ride on Juliet with just a bareback pad. How's that for 83 years young.
---
Janet & Jill
Durham, North Carolina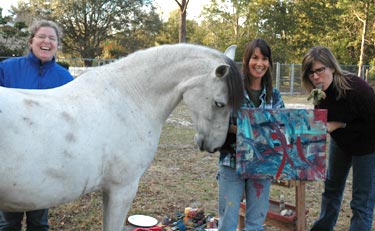 Friends Janet and Jill came to see Romeo and Juliet paint on a cool January day. Janet got so inspired by watching him paint with a brush in his mouth that she had to try it too. Yes, that is Romeo's brush in her mouth, but that's okay with him. He likes to share.
---
Audrey, Stan, Pam, Keith, Kaitlynn & Erick
Spokane and Ocean Beach, Washington
Cheryl's family traversed the United States from Washington state to Florida and took home paintings by Romeo and Juliet. Where else can you get paintings created by a pair of painting Pasos?