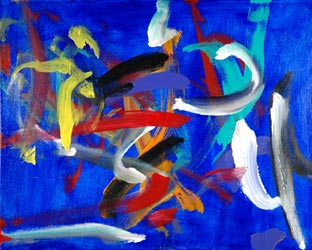 (click image to enlarge)

Alphabet Soup

By Cheryl Ward with Romeo
16 x 20 in.
Acrylic on ultramarine blue canvas
© 2005
Sold

When I look at this painting I feel like it has a hidden code to decipher. If the painting is rotated in any direction, a variety of letters from the alphabet seem to appear. Knowing Romeo the way I do I have a feeling he'd spell F-E-E-D M-E-!