Home
---
"TRAINING BY ATTRACTION"
The basis of teaching my horses to paint came out of my quest to see if horses can be trained primarily with positive reinforcement.
I'd heard many trainers say that negative reinforcement or pressure/release is your line of communication with your horse. I wanted to try something different.
I saw the vast contrast between working with my horses using methods of attraction and using methods of pressure. It became a question: Was I like a predator using pressure, or a provider using attraction? By training with attraction, my horses were relaxed and focused without using any force.
Pressure can be communicated to a horse with a shout or a whisper. I like what I see in my horses when they respond because the choice feels good, not because they're avoiding something that feels bad. -cw
Welcome to PaintingHorse.com
Update!
My painting horses and I have folded our jumbo easels, put away our paints and hit the trails for new adventures. After seven years, we are no longer in the business of selling or creating paintings. Heartfelt thanks to everyone who's purchased paintings, sent notes of encouragement and visited our site.
I personally know the joy of filling my home with paintings by horses, so I'd like to refer you to Peggy Hogan and her amazing miniature horses. Their videos alone will fill your heart with a smile, so imagine what their paintings will do!
---
On My Blog

---
Art in Collaboration
By Cheryl Ward
Since 2004 I have been collaborating with my horses to create what I call 'interspecies collaborative action art.' My horses paint with brushes in their mouths and I choose the colors, brushes and direct the canvas.
During this time we've appeared at festivals, horse shows and art shows. I've written articles for magazines both here and abroad and we've been on national TV.
Watch my herd of painting horses on The CBS Early Show:

Artist Cheryl Ward's unique methods capture national attention on CBS.
How in the world do you teach a horse to paint?

Before I could answer this often-asked question with any authority, I had to make certain that Romeo, a formerly troubled Paso Fino and my first painter, wasn't a fluke.



We then we welcomed Juliet, a bold and curious Paso Fino mare, who seemed to learn simply by watching Romeo.



Shortly after that we found a sabino pinto gelding suffering from post traumatic stress disorder. We thought teaching him to paint would help him. It turned out that DaVinci learned to paint before we could even touch him.


And if three painting horses weren't enough, I really wanted to see what a yearling could do. As luck would have it we acquired not just any yearling, but a Clydesdale yearling! Raleigh's zeal for painting tops the other three.
---

Click the play button to watch Romeo & Juliet paint


EVENTS...
Now Live Online
The CBS Early Show
See Cheryl Ward and her painting horses online at the CBS Early Show website.

WHAT'S NEW...
November - 2011
Painting Horses Put Away Brushes
After 7 years of painting with her horses, artist Cheryl Ward is no longer selling paintings and would would like to refer you to Peggy Hogan and her amazing miniature horses.

September 7 , 2011
Painting Dog Takes the Brush
For the last few years, our dog Trixie has been watching the horses paint on canvas. Now it's her turn. Watch her video here.

April, 2009
Painting Horses on CNN
Here's a story by Tampa Bay's BayNews9 that was picked up by CNN International. Watch the video.

March 18, 2009
Launch of "Horse Pucky" Comic Strip
To balance the more serious side of her new blog, Cheryl has created a new comic strip, Horse Pucky, (also found on her blog).

March 6, 2009
PaintingHorse Blog Now Online
Stay updated with new articles, posts, videos, photos and more at Cheryl's blog, I Feel Good, My Horse Feels Good.

PAINTING HORSES STAR IN CHILDREN'S BOOK

By Cheryl Ward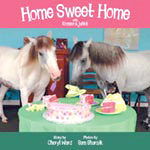 Home Sweet Home with Romeo & Juliet
Imagine a pair of 900-pound horses photographed in a furnished, carpeted house eating cake with a Chihuahua

More information...