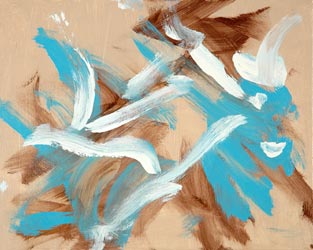 (click image to enlarge)

Dove Chocolate

By Cheryl Ward with Romeo
16 x 20 in.
Acrylic on mocha canvas
© 2005
Sold

Romeo, recognizing my affinity for chocolate, created rich flowing strokes of deep brown set on a creamy tan canvas. He added a few strokes with a bit of soft blue and white. In the center he painted a few vivid strokes of white that look like a white dove in flight.