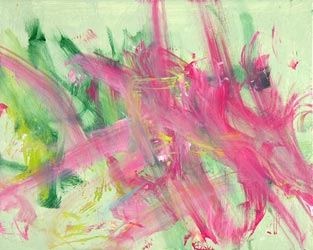 (click image to enlarge)

Herd of Flowers

By Cheryl Ward with Romeo
16 x 20 in.
Acrylic on light green canvas
© 2005
Sold

One would assume that painting would be a peaceful activity. Not on the day that Romeo painted this one. Our neighbors have a small herd of cattle that on occasion take themselves for a walk. Ironic that their walk coincided with the day Romeo was painting in the front yard facing the road. Needless to say this painting with a lovely floral palette ended up being a rather exciting and snort-filled flurry of bright pink strokes inspired by the stampede of man-eating cows.